100% Free Train Albums, Music and Songs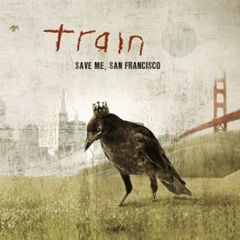 Train is a good old American rock band that is formed by a few different members.  For Train, they actually got their start when their lead singer, Pat Monahan was in a Led Zeppelin cover band that disbanded.  He moved from Erie, PA which was his hometown, in 1993 to California and ran into Rob Hotchkiss.  The two of them starting playing music in the local area, but they soon realized that they needed to create a full band and they recruited a few more people.  They found Jimmy Stafford to do the guitar playing, Charlie Colin to play bass, and Scott Underwood for their drummer.  This was all done by 1994 and they had a band that was ready to go and ready to record, perform, and become superstars.
Train actually had some issues getting signed and was rejected a few times by record labels like Columbia Records.  So, they decided that in order to get noticed, they were going to have to go out on their own and actually release their won CD, which they did.  That was what helped them get their fame, and had they not taken the time to actually make their own CD, do their own marketing and book their gigs, they never would have made it.  Soon, they were actually touring nationally and opening for bands like Hootie and the Blowfish and the Counting Crows.
The album that they did on their own was released in early 1998.  It was done all by them, they produced it and they funded it and it cost about $25,000.  But, for that investment, they actually got some major singles off of the label.  They had hits like "Free" and "Meet Virginia" on this CD that got them known, listened to, and helped them get signed and into the mainstream music market.
The next album that they put out was the Drops of Jupiter album and it was produced with a professional, so they did not have to do it themselves.  This album of course had the single "Drops of Jupiter (Tell Me)" on it which has become their claim to fame and is definitely the song that pops into most people's heads when you ask them about the band Train.  This lead them to a Grammy Award for the Best Rock Song in 2001 and was a huge hit on the Billboard charts.  After all their hard work, Train had got their break.
Today, Train is still putting out albums, their latest one which was entitled Save Me San Francisco was released late in 2009 and was once again another huge hit.  They also use these songs in commercials and for many different things that got them known even more.  Train is a great band that has done a lot of great music making in their days and they are great for what they have done.  This self promoted band has really worked hard to become the superstars that they are today, and there is much more to see from them.