100% Free The Ready Set Albums, Music and Songs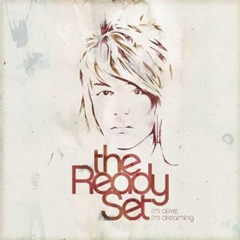 The Ready Set is actually just a stage name for an Indie pop performer by the name of Jordan Witzigreuter.  Jordan is from the Midwest and was actually born in Fort Wayne, Indiana on November 14th, 1989.  He does still live in Fort Wayne today when he is not out touring or is not in Los Angeles recording.  Jordan started playing music at a young age.  When he was 11, he started playing the drums and that was really the main instrument that he played when he was younger.  However, with his love for music, he also started writing and became very involved in the music scene in Fort Wayne.
Jordan formed an acoustic duo called Brideandgroom, but that quickly disbanded when the other member left for Chicago to go to culinary school.  From there, Jordan formed The Ready Set and started to work to get himself known as a larger name in the music scene throughout the world.  In his early days, he actually would record in his parent's basement and was getting popularity online and in the tours that he was able to go on.  Quickly, he was growing in popularity and was getting a fan base thanks to all the social networking and marketing that he was doing.
Jordan actually got his break with The Ready Set when Pete Wentz signed him to his label Decaydance Records.  It was Wentz that actually worked one on one to release his first album that was I'm Alive, I'm Dreaming.  Thanks to the help from Wentz, Jordan and The Ready Set were gaining in popularity.  Because Wentz had such deep roots and had contacts he was able to easily market Jordan and hook him up with the important people that he needed to meet to make it in the industry.
Through MTV, The Ready Set was able to get a lot of play.  Jordan was featured as an MTV artist of the week; he was also invited to play on the MTV VMA Tour, and was even in an episode of the MTV show "Silent Library".  MTV really has helped Jordan and The Ready Set get where he wants to be with his music and get his album out to fans and people that are always looking for great new musical acts to listen to.  All of his appearances on MTV have really made a big difference.
When it comes to touring, The Ready Set is just Jordan, but he does use a backup band to play with him.  This allows him to get the depth in the music that he wants.  While The Ready Set hasn't headlined yet, he has opened for some big names like Ryan Cabrera and 2A Club.  He also recently played a Christmas concert in Arizona with Miranda Cosgrove and We The Kings.  The biggest accomplishment thus far for The Ready Set is probably that he has been named to the Vans Warped Tour 2011 and will be out on tour there for the entire summer.