100% Free Soulja Boy Tell 'Em MP3s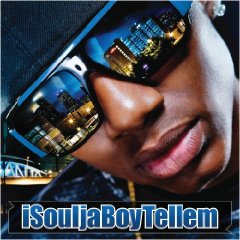 Born DeAndre Ramone Way, in Chicago in 1990, Souja Boy Tell 'Em, also known as just Soulja Boy, is without a doubt most recognized for his single "Crank That Soulja Boy". Other singles have been hits such as "Soulja Girl", "Yahhh", "Let me Get 'em", "Donk", "Bird Walk", "Kiss Me Thru the Phone", "Turn My Swag On", "Gucci Bandana" and "Soulja Boy Tell 'em", Soulja Boy has been a huge hip hop sensation around the globe.
Soulja Boy moved to Atlanta at the age of six and then moved to Batesville, Mississippi at age fourteen to be with his father. In his young years, Soulja Boy was already making a name for himself through writing, producing, live entertainment, and the knack for writing hooks. His father realized how serious Soulja Boy was and provided him with a recording studio as well as the support to keep going with this dream.
Soulja Boy relied on the Internet to spread the word of his producing and writing in his early years. By 2004, Soulja Boy had established Stacks on Deck Entertainment, his own record producing label. With his father's support, Soulja Boy returned to Atlanta where all the big names in hip hop, R&B and rap were, to begin networking with the industry heads. Shortly after moving back to Atlanta, Mr. Collipark, a producer who has worked with the likes of the Ying-Yang Twins, Young Jeezy and Bubba Sparkz, helped Soulja Boy become an overnight sensation. Soulja Boy went from local producer to national icon, and mostly due to the Internet.
In 2007 Soulja Boy cranked out of airwaves all across the country with his jam "Crank That Soulja Boy". The song even had its own dance that was infectious and spread across the country like wildfire. "Crank That Soulja Boy" was on the Billboard Top 100 list for seven weeks. The single also appeared on an episode of the made for HBO series Entourage. Soulja Boy was nominated for a Grammy for the single "Crank That Soulja Boy" but lost to Kanye West and T-Pain's collaborative effort "Good Life".
Soulja Boy utilized the Internet more than any other artist has in our time. He created souljaboytellem.com which received stellar reviews from online music critics including Allmusic. Soulja Boy identified his music and his goal as being party music, avoiding the negativity and violence seen and heard all over the rap industry of that time.
Soulja Boy's second hit single, "Bird Walk" didn't do as well as his first single, "Crank That Soulja Boy". "Bird Walk" peaked on the Billboard Hot R&B at number forty. Later, Soulja Boy's third released single, "Kiss Me Thru the Phone" peaked on the Billboard Hot list at number three.
Soulja Boy is set to relase his third album in August 2009, The DeAndre Way.