100% Free Shinedown MP3s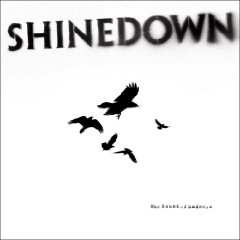 Shinedown has been compared to Nickelback, Alice in Chains and Creed. This rock band Shinedown which was formed in 2001 has sold more than six million records to date. Made of up members Brent Smith, lead singer; Brad Stewart, bass player; Jasin Todd, guitar; and Barry Kerch, drummer, Shinedown originates from Jacksonville, Florida.
In 2001, future Shinedown lead singer Brent Smith, worked out a deal with the music label Atlantic. Atlantic wanted Brent for his songwriting and Brent negotiated he would pick and choose the rest of his band. Brent returned to his home in Jacksonville, Florida where he later hooked up with Brad, Jasin and Barry.
Lead singer Brent Smith boasts he has had no professional training or vocal lessons. He is said to have a wide range of vocals and has been influenced by the sounds of Dionne Warwick and Otis Redding. Before forming Shinedown, Brent was a member of a band called Blind Thought and another band called Dreve. Brent Smith has collaborated with both Saliva, Theory of a Deadman, Alice in Chains and Daughtry.
Drummer Barry Kerch was called the "Lucky Number Seven" as he was the seventh drummer to audition for Shinedown and blew away founder Brent Smith at the audition. Shinedown is Kerch's first professional musical adventure. Before auditioning for Shinedown, Kerch attended the University of Central Florida and obtained a degree in Anthropology. Kerch is also an enthusiastic cook and uses the Shinedown website to post his own recipes for his fans.
The newly created Shinedown worked on their debut album, 'Leaving a Whisper' which they released in 2003. The popular single released from Whisper was "Fly From the Inside" which attracted a loyal and devoted Shinedown following.
In 2005, the band wrote and produced their second album, 'Us and Them'. Hit singles from 'Us and Them' were "Heroes", "Save Me", and "I Dare You". After the release of 'Us and Them', Shinedown proceeded to perform their first international shows as well as opening a North America show for Godsmack and Rob Zombie.
2008 brought the release of Shinedown's third album 'The Sound of Madness'. "Second Chance" was the second single released from 'The Sound of Madness' and the most popular single off that album and Shinedown's biggest hit to date.
The band faced some artist changes throughout the years. In 2007, Brad Stewart who left the band and was later replaced by Eric Bass in 2008. In 2005, Zach Myers joined the band as touring guitar player until 2007 at which time he became the permanent rhythm guitarist. In 2008 Jasin Todd, guitar player left the band. Nick Perri, guitar player joined and left the group in 2008.
Shinedown has been compared to or associated with musical greats like Alter Bridge, Daughtry, Disturbed, Saliva, Theory of a Deadman and 3 Doors Down.