100% Free Pink MP3s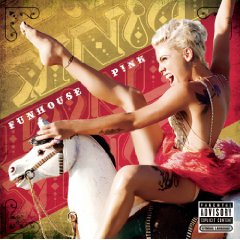 Pink is an animal-rights advocate involved with numerous charities and has managed to sell 30 million albums worldwide. Born in Doylestown Pennsylvania in 1979 as Alecia Beth Moore, Pink is known for her outspoken and quirky style. As an animal-rights advocate, Pink has spoken out against animal cruelty for the animal rights organization PETA. Pink has been involved in the Kentucky Fried Chicken protests as well as written letters criticizing Prince William for his fox hunting and Queen Elizabeth II for her use of real fur. Pink declared disgust for fellow artist Beyonce wearing fur, she also declared disgust for the Australian wool industry in their usage of mulesing. Additionally, Pink is a vegetarian.
Pink's involvement with charities include the Human Rights Campaign, World Society for the Protection of Animals, New York Restoration Project, Save the Children, ONE Campaign, Take Back the Night, Prince's Trust, and UNICEF.
Pink has also appeared in movies as a Rock singer (Rollerball, 2002), a coal bowl starter (Charlie's Angels: Full Throttle 2003), Carolyn (Catacombs 2007) and as herself in Get Him to the Geek, released in 2009.
Pink has released five albums to date - Can't Take Me Home (2000), Missundaztood (2001), Try This (2003), I'm Not Dead (2006) and Funhouse (2008). She has toured as headliner in 2002 Party Tour, 2004 Try This Tour, 2006-2007 I'm Not Dead Tour and 2009 Funhouse Tour but has also toured as a supporting act for 'N Sync in their No strings attached tour (2001), Lenny Kravitz (2002), Janet Jackson in her All for You Tour (2002) and Justin Timberlake's Future Sex Love Show tour in 2007.
In 2001, Pink won Best Pop Collaboration with Vocals for the "Lady Marmalade" collaboration between Christina Aguilera, Lil' Kim, Mya and herself. Pink was also nominated for Best Female pop Vocal Performance and Best Pop Vocal Album in 2003 and Best Female rock Vocal Performance and Best Pop Collaboration with Vocals in 2004. In 2007 and 2009, Pink was nominated for Best Female Pop Vocal performance for Stupid Girls (2007) and So What (2009).
Pink's childhood and family molded much of her inspirations for her songwriting. Her mother was a Jewish nurse and her father was a Catholic Vietnam veteran. Pink's father sang to her and played guitar for her. Pink knew from an early age she was going to be a rock star. Janis Joplin, Bette Midler, Steven Tyler, Billy Joel, Madonna and the Indigo Girls are some musicians and artists that have inspired and influenced Pink's career and musical tastes.
Pink joined her first bank in high school. The band was called Middleground. Middleground and cross-town rival band The Jetsists had a battle of the bands competition at a local café and The Jetsists won.
Pink's first album Can't Take Me Home was released in 2000. Produced by Babyface and Steve Rhythm, the album went double platinum in the United States and sold more than five million copies around the world.
Pink released Missundaztood in 2001, Try This in 2003 and I'm Not Dead in 2006. With each album, Pink showed more distaste toward cookie-cutter pop acts and defined her niche as a star songwriter and singer even more, making her the world phenomenon rock icon that she is today.