100% Free Kris Allen MP3s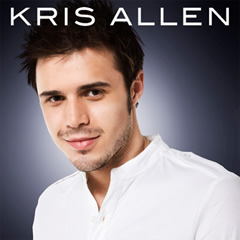 Winner of American Idol: Season 8, Kristopher Neil Allen, born 1985, is a singer and songwriter from Conway Arkansas. Before winning American Idol: Season 8, Allen released an album in 2007 titled Brand New Shoes. The album was self-released and contained the tracks "Brand New Shoes"; "Beautiful Moon"; "I Was Played"; "Be My Lady"; "Running"; "Wipe it Away"; "Lovely"; "Wastin Time"; "On Our Way"; "Real World"; and "Land of Smiles". Other musicians to round off the musical talent on the Brand New Shoes record were Michael Holmes on drums and Chase Erwin on base guitar.
Kris Allen's love for music began at a very young age. He played viola in his elementary school and high school orchestras. He also earned a spot on the Arkansas all-state orchestra. Kris Allen also taught himself how to play the guitar at the age of thirteen. Since then he has learned how to play the ukulele and piano as well. Allen states his musical influences and inspirations have been Michael Jackson, John Mayer, the Beatles and Jason Mraz.
After graduating high school, he attended the University of Central Arkansas in Conway, Arkansas. He studied business and was in the Chi Alpha fraternity. Shortly after starting classes, Kris dropped out to pursue his first love, music. Kris played at local bars and worked as a shoe salesman to pay bills. In 2008 Kris and his girlfriend of seven years, Katy, were married and Kris decided it was time to get "a real job" so he enrolled in school again. At this time, American Idol Season 8 auditions were being held in Louisville Kentucky and, with the support of his wife and loved ones, Kris auditioned. Kris's song choices were often questioned and often praised by the judge's. Kris chose to sing such songs as "A Song For You" by Donny Hathaway; "I Want you Back" by the Jackson 5; "Man in the Mirror" by Michael Jackson; "Remember the Time" by Michael Jackson; "Make you Feel my Love" by Bob Dylan; "Come Together" by the Beatles; "The Way you Look Tonight" by Frank Sinatra; "Apologize" by One Republic; "What's Going On" by Marvin Gaye; and "Heartless" by Kanye West.
Since winning American Idol Season 8, Kris Allen has appeared on The Tonight Show with Jay Leno, The Ellen DeGeneres Show, Live with Regis and Kelly, The Early Show, Access Hollywood, The Morning Show with Mike and Juliet and Larry King Live.
A Christian and serving as assistant music director of New Life Church in Conway and Little Rock, Kris Allen was born to mother Kimberly and father Neil. Kris has a younger brother Daniel. Not in the music industry, Daniel chose a more athletic road and is a cheerleading coach. Kris has done missionary work around the world. He has been a missionary in countries such as Thailand, Spain, Morocco, Burma, Mozambique and South Africa.