100% Free Kid Cudi MP3s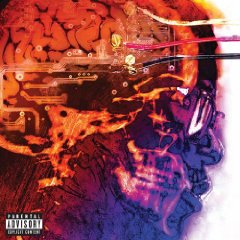 Born Scott Ramon Seguro Mescudi in 1984 in the middle class suburb of Shaker Heights, Cleveland Ohio, however he is better known by Kid Cudi, his stage name. He covers the musical genres of alternative hip hop, Midwest hip hop, alternative rock, hip house, electronica and R&B. A relatively new artist to hit the scene, Kid Cudi is due to release his first studio album Man on the Moon: The End of Day in late summer 2009.  Kid Cudi is also collaborating with Chip tha Ripper on an album titled The Almighty Gloryus which is due to be released sometime in late 2009.
Kid Cudi had independently released a mixtape, A Kid Called Cudi. Kanye West somehow heard the mixtape and upon realizing the talent behind the mixtape in Kid Cudi, Kanye signed him to GOOD Music shortly thereafter. With Kanye's marketing and producing genius guiding him, Kid Cudi along with DJ AM and Travis Barker, performed at the 2008 VMA's. Kid Cudi also collaborates with Kanye on several singles off the album "808s & Heartbreak". He sings with Kanye on "Welcome to Heartbreak" and "Paranoid" and co-wrote "Heartless". Kid Cudi is also featured on Kevin Rudolf's album In the City on the song "Welcome to the World". Kid Cudi is also featured on the 88-Keys albym The Death of Adam. He is featured on the single "Ho is Short for Honey".
Kid Cudi can be seen in numerous magazines such as Vibe, Interview, Rolling Stone, The Source and Complex. He has been in both BBC News's Sound of 2009 and XXL for up-and-coming acts. He has also appeared on "Last Call with Carson Daly" and MTV's 2009 Spring Break Special. He performed three shows on "Last Call with Carson Daly" and also performed periodically on MTV's Spring Break Special. Additionally, Kid Cudi, with Emile, produced "Switchin Lanes", an exclusive single for Midnight Club: Los Angeles, a video game available for Play Station 3 and part of PS3's "South Central Premium Upgrade" downloadable content. In February 2009 he was a guest on Snoop Dogg's MTV talk show called Dogg After Dark. Kid Cudi performed "Day 'n' Nite" at the conclusion of Snoop's show. In May 2009 Kid Cudi announced he was going to re-release his mixtape from early on in his career. He released the mix on the Internet and shortly afterward crashed the server because the traffic was so heavy.
Lately there has been some controversy surrounding Kid Cudi's previous announcement that he was going to retire from hip hop (after not really even having established a career in the industry) and then awhile later announcing at Austin's South by Southwest 2009 festival that he wasn't retiring.