100% Free Jason Mraz MP3s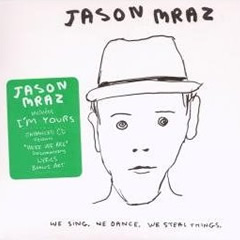 Inspired by Dave Mathews Band, Agents of the Good Roots and the musical genres of folk and jazz, Jason Mraz is a bona fide singer-songwriter. Although Mraz attended the American Musical and Dramatic Academy in New York City that was a short-lived stint and he knew he needed to write his own music, his own way. Mraz traveled around the country moving from New York City to San Diego and back to Mechanicsville, Virginia where he was born and raised. Mraz hooked up with former idols Agents of the Good Roots in 2002 to write and record his first hit "Remedy I Won't Worry".
Born in 1977 in Mechanicsville Virginia, Jason Mraz as a young boy was very interested in musical theatre and acting. It was because of this passion he attempted attending the American Musical and Dramatic Academy in New York City that eventually led to the realization he wasn't meant to act or perform musical theatre, instead he was meant to write his own songs and perform them.
Mraz became a hit in the San Diego coffee-house one-man acoustic band scene; the same scene that pushed Jewel into the singer-songwriter limelight. In San Diego, Mraz earned a regular spot at Java Joe's performing his music weekly. Mraz also met Toca Rivera, a drummer in the San Diego coffee-house one-man acoustic band scene. Rivera and Mraz began playing and writing together and developed quite the loyal and devoted following of fans that even eventually spread into the music scene of Los Angeles. It was through this notoriety that Mraz was offered a contract with Elektra. The executives at Elektra had heard the buzz about Mraz and Rivera from the local music scene and offered Mraz a chance to write and record an album. It was at this time that Jason Mraz thought it best to return to his roots and write in Mechanicsville, Virginia.
With the help of Agents of the Good Roots and producer John Alagia, Mraz wrote and produced his first album, 'Waiting for My Rocket'. Mraz toured and promoted this album throughout the next two years.
In 2005, Mraz came out with his second album, 'Mr A-Z' which did not disappoint fans. Mraz's style changed a bit from mainstream to a little more edgy and original. 'Mr A-Z' had a mega hit "I'll Do Anthing" which sent fans reeling into Jason Mraz hysteria.
Mraz's third album, 'We Sing. We Dance. We Steal Things.', was released in 2008 and contained the mega hit "I'm Yours". The single introduced people to Mraz who weren't necessarily Mraz fans between his first and second albums. Mraz's new sound had developed even more into his own unique style and even farther away from any mainstream sounds out there in the music world.