100% Free B.o.B Albums, Music and Songs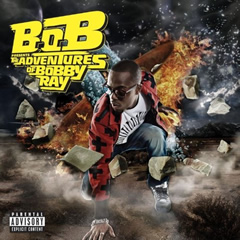 B.o.B is a rapper that is also known by his real name, Bobby Ray Simmons, Jr.  He was born on November 15th, 1988 in Winston-Salem, North Carolina. He moved with his family to Decatur, Georgia when he was very young.  As a young child, he was always interested in music and he played the trumpet in school.  In sixth grade, he started to focus less on his studies and more on his musical career and even though his parents disapproved of that decision, they realized that their son was talented and let him pursue his love for music, which so far has taken him extremely far.
Bobby Ray was hugely influenced by the hip-hop music that was coming out of Atlanta.  He actually chose to have his stage name be B.o.B because it was a tribute to the great rap group of Outkast and their hit "B.O.B" (Bombs Over Baghdad).  This was where his first inspiration came from and had his parents not understood, he would have been left out in the dark with a musical talent that may have never been discovered.  He is definitely a driving force in the music industry today.
The start of B.o.B's career was actually in the beginning of 2007.  He had released an underground song that was called "Haterz Everywhere".  This song ended up on the underground chart at number 5.  Aside from trying to make his own music, Bobby Ray was also producing music and writing songs, and that was really where he was making the biggest dent at the time in 2007.  Producing his own music was something that he was doing, but it was not his first priority as his time as a producer and a song writer were really blowing up.
In 2010, B.o.B released his first ever album early.  It was slated to release in May, but he released it in late April of 2010.  This was because he was having so much success with the singles that were on the album and people wanted to hear more of what Bobby Ray had to offer.  His first hit off this CD started with "Nothin' on You" that featured Bruno Mars.  This album was released with the help of T.I and was under his label that has quite a few other big name rappers in the game today.  This helped him get the publicity that he needed.
One of his biggest hits today, "Airplanes" featured Hayley Williams and Eminem and was a huge hit all over the world.  By the time he officially released the album, it debuted at number 1 and sold a ton of copies for the first year.  He was sent on a tour and made some impressive appearances at the BET Awards, MTV Video Music Awards, Teen Choice Awards, and others.  B.o.B is just starting out in the rap game and there is so much more that will come from this talented individual.  Download B.o.B's music for free and see if you enjoy what he has to offer.